Currently in England celebrant led weddings aren't legally binding. So why do thousands of couples every year choose to have their wedding ceremony officiated by a celebrant instead of a registrar?
There are of course numerous answers to this question. Here are a few of the main reasons couples choose to tie the knot with a wedding celebrant leading the proceedings.
Getting personal
Celebrant led weddings dispense with any of the 'must have' elements. So your ceremony can include anything you choose and couples love the personal feel celebrants bring to ceremonies. One of my favourites is to include the couple's love story. Telling how you met, early dating anecdotes, that romantic proposal and your hopes for the future. And reading out secret words you've written previously about each other is a really special moment.
Adding symbolic gestures into a wedding ceremony is also really popular. And I love conducting hand-fastings for my couples. Here your hands are bound together with ribbon while a blessing is made. Did you know this is where the phrases tying the knot and binding agreement originate? It's a gesture steeped in history too. If you're bringing families together a sand blending is a visual treat for everyone. Or you may like to involve all your guests in a ring warming. They take it in turns to imbue your wedding rings with love and wishes and the rings are 'warmed' when you come to exchange them.
Naturally you can include poems, readings, songs, exchange of your wedding vows and your wedding rings. But these can all be in any format you choose and you can write your own vows to share with each other. Your celebrant can help if the thought of having to write something fills you with panic!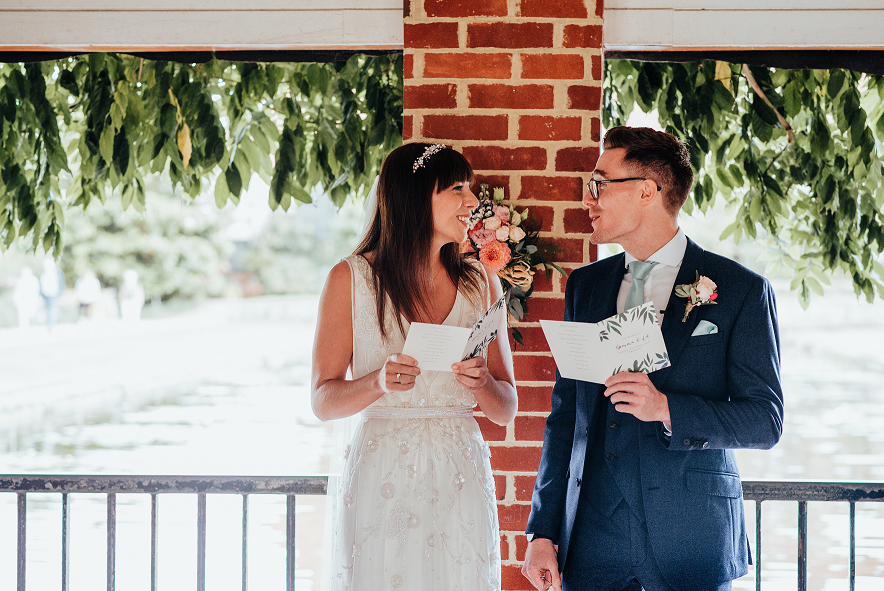 Time is on your side with celebrant led weddings
There are no time constraints with celebrant led weddings. You won't be rushed through for the next booking. So, without making it so long that your guests get fidgety, you can take as long as you like. I'd suggest that 45 mins is long enough with 35 mins being about right. Plenty of time for lots of personal and memorable elements without everyone straining to get to the fizz and canapes!
This means you can add extra elements to your ceremony that might take a bit of time. How about getting everyone on their feet to sing – karaoke style – to your favourite song. It's an amazing moment with everyone singing their hearts out and sounds fab. You've also got time to involve friends and family more in your ceremony. There are lots of options here. Your parents could give you a blessing or your friends could share a memory or marriage tip for the two of you, which can be quite entertaining.
Location, location, location
Aha, the reason most couples choose celebrant led weddings – 'cos you can marry anywhere you choose! There are no constrains as long as you have the land owner permission. I've conducted ceremonies in a woodland copse (so romantic), a family farm which added to the many memories already held on the land, country estate hotels like the stunning Wotton House near Dorking in Surrey, a private island on the Thames where the groom arrived by speed boat, a trendy wine bar in London, and numerous back gardens. I'm still waiting for an invitation to conduct a ceremony on a remote mountain pass or a vineyard in the Dordogne, but I am sure they will come!
Most couples have a single venue where you have your ceremony and celebrations together. This makes it easy for all your guests and great fun too. If a festival style wedding in a field with a festival bar and food, billowing bell star tents and dancing under the stars appeals, then a celebrant led wedding is certainly for you.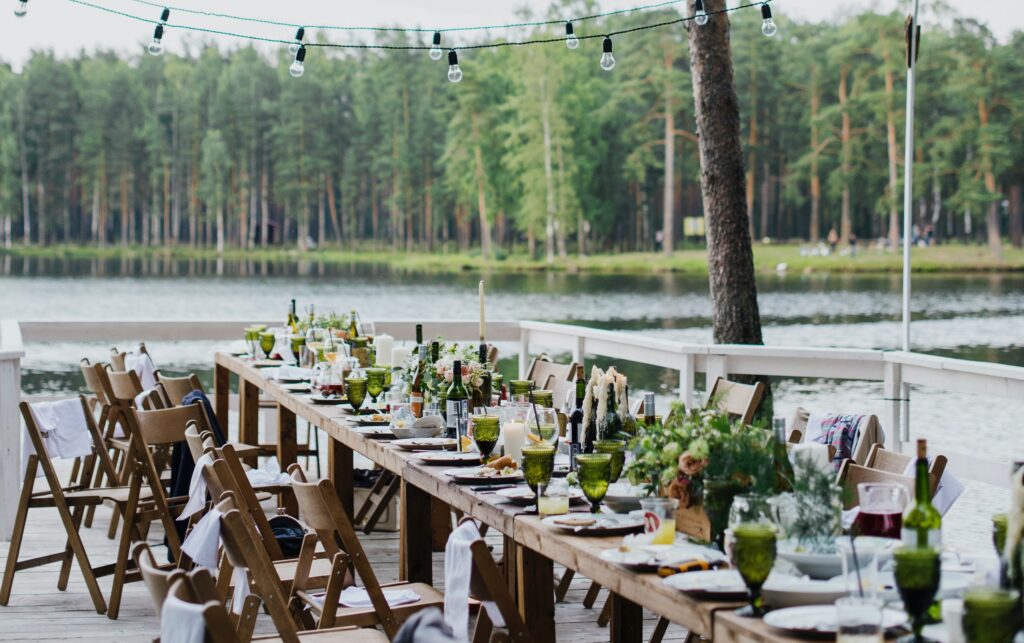 You've done the legal bit already
Maybe you married abroad or during lockdown without all your friends and family with you to celebrate. Having a celebrant led wedding followed by a wedding breakfast let's you share your wedding with everyone you choose. And no-one has to miss out on the special moment that you say 'I do', or the after party! It doesn't matter when you did the legal bit. You can re-create your ceremony or create something completely new for your celebrant led wedding. Read more about this in my Re-weddings blog.
But most couples who decide on a celebrant to lead their wedding do so because their ceremony will be just as they want it. Your legal wedding could take place in the days or weeks beforehand at the registrar office. Invite just a few of your nearest and dearest sharing the day with you. You can save exchanging your wedding rings for your celebrant service, and just do the legal bit. This can cost as little as £50. Or you could opt for having the registrar marry you at your wedding venue, assuming there is a licenced area, after your celebrant led wedding.
The choices are endless really, and that's why you should bother!