'Re-wedding' seems to be a word made for 2020 and 2021!
What a year we've all had. Those couples who had their big day planned, their hearts set on committing to each other witnessed by their friends and family are amongst those my heart goes out to. But some of you chose to carry on, often with a small registry office service with just your parents as your witnesses, and I salute you for your determination not to let COVID get in the way of true love!
So does this mean you can't have the wedding you originally planned? No, no, no. Get your wedding planning head back on. Start designing your re-wedding with family and friends at the centre of your plans.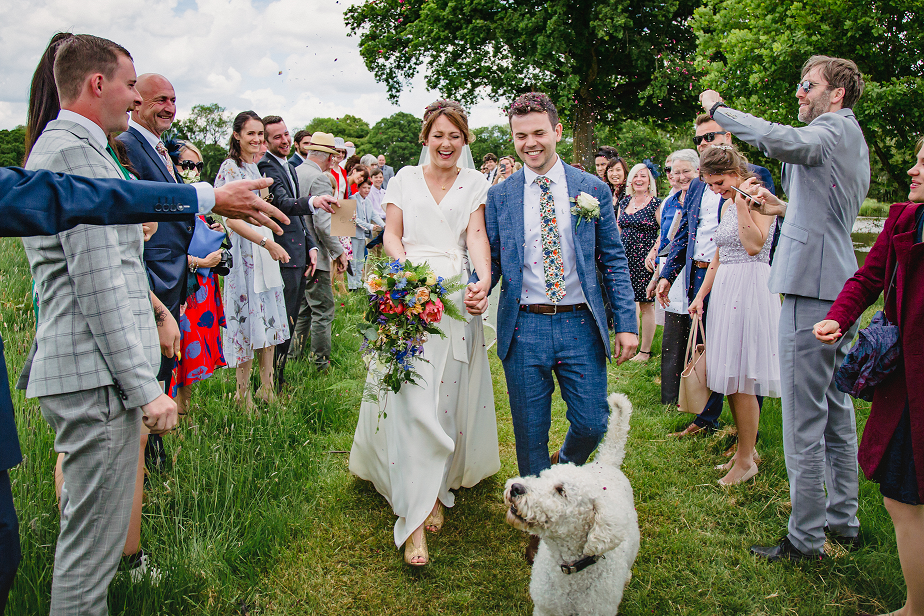 Your re-wedding venue
Once restrictions are lifted, you can once again have the ceremony and reception of your choice. Whether that's a festival style wedding in a summertime field, a rustic country barn setting, or a gorgeous hotel on the banks of the Thames, and everything in-between. Certainly your first port of call will be the venue you originally chose. Hopefully they'll transfer your deposit to your new date, but you have an opportunity to decide on something different. Maybe your experiences of the past year have changed your thinking about what's important to the two of you and what's important for your re-wedding.
Celebrate in your own style
I suggest taking a bit of time out to think about what you'd really like for your re-wedding. Consider the sort of venue that feels right and the atmosphere you'd like to create. Maybe your guests would love a relaxed party vibe with some games the best dance tunes rather than the wedding breakfast you had originally planned. After a bit of deliberation, you might decide that you got it right with your original plans. If you want your day just the way you had planned it, that's great – job done! But there's no harm in a bit of reflection.
Your re-wedding ceremony
And what should you do about your wedding ceremony? You are married, and you're wearing your rings to prove it. But all your friends and family missed those special moments when the two of you made your commitments and promises to each other. To make up for this, many couples are planning a celebrant-led wedding ceremony for their re-wedding. And these promise to be even more special than their legal service.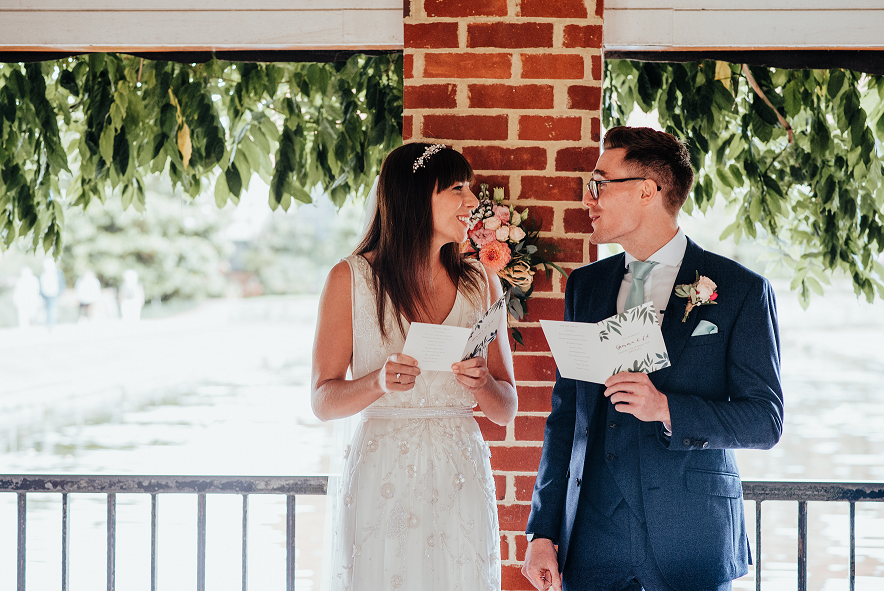 This time you can choose exactly what you'd like included in your wedding ceremony and involve your family and friends too. You can create your own wedding vows centred on what you'd like to promise each other, and choose your own words for your ring exchange too.
You might like to add some symbolic gestures such as a ring warming ceremony. Here your guests take turns to hold your wedding rings and charge them with love and wishes for the two of you. Or maybe a handfasting with ribbons tied by your family as you make promises to each other would bring a fab visual element to your ceremony, you can read more about handfasting here. Another great way to involve all your guests in your re-wedding ceremony is to get everyone on their feet singing. Pick an easy song that everyone knows like 'It Must Be Love' from Madness and do it karaoke style! I guarantee everyone will get into it and you'll create a really magical and fun moment.
If you'd like your re-wedding to feel like 'the real thing' you can also sign a marriage certificate with witnesses signing with you. This is a great moment for some fab photos too. And don't forget to think about how you'd like to be introduced at the end of the ceremony. Are you going to be 'Mr & Mrs' or maybe you just want all your guests to 'big it up for the happy couple'.
Choosing a celebrant
Your celebrant will be happy to talk through ideas and suggestions and to create a ceremony that reflects the two of you as a couple and the vibe you'd like for your re-wedding ceremony. If you're not sure how to find the right celebrant, the Celebrant Directory will have the perfect person for you and lots of great tips too. Or you could, of course, just give me a call!
Good luck with your planning, and do drop me a line if you have any questions.