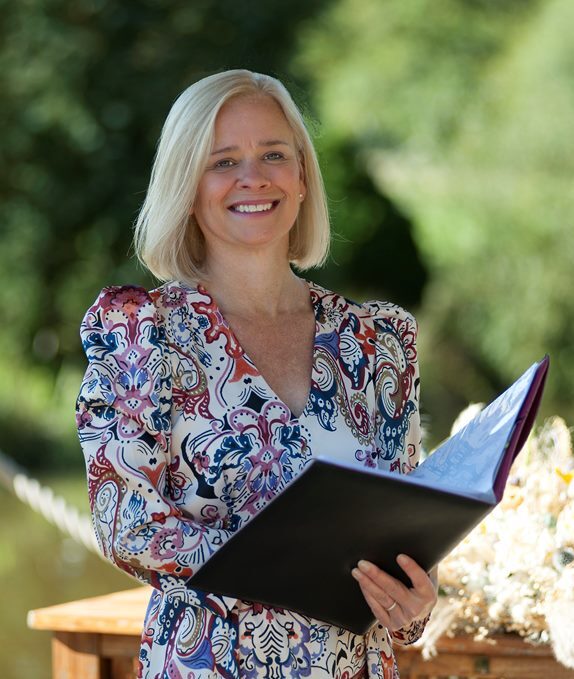 Hi, I'm Stephanie Forster, a qualified humanist wedding, naming and funeral celebrant accredited with Humanists UK based in Surrey.
In 2017 I embarked on an amazing journey to become a celebrant…
I wanted to change my life and decided to take my writing, presenting and listening skills in a new direction by training to be a humanist celebrant. When I looked into it, I found that I really related to the humanist views of being kind to all people, believing in equality, and looking after the planet, it felt like the perfect fit!
And I love every minute of being a celebrant. From chatting to couples and families who are making their first enquiries to presenting them with the draft script and delivering the service on their special day that's just as they wanted. It makes me all smiley just thinking about it 🙂
My background
In my previous working life I had a marketing and communications career of over 15 years which started in the hotel industry. So I have heaps of experience of creating, organising and hosting events of all kinds. This has proved invaluable in designing and writing bespoke non religious weddings and namings and funerals with all the couples and families I work with to create ceremonies just the way they want them.
My locations
I mainly conduct ceremonies in Surrey, Sussex, Hampshire, Berkshire and London but I'm happy to travel anywhere. So if you are thinking of getting married or having your naming in Dartmoor, the Dales or somewhere further afield such as a vineyard in the Dordogne I'd love to help. Travel is one of my passions so I'm always looking for excuses to explore new places and return to old haunts! I love exploring on foot too and have been lucky enough to don my walking boots in some amazing spots from the Grand Canyon to Milford Sound, but the Surrey Hills are pretty cool too.
Getting in touch
If you would like to find out more about humanist ceremonies or to discuss your plans and ideas with someone who loves to talk weddings, babies, travel and walking, and can help you celebrate a life well lived, then do get in touch!
stephanie@silverbeeceremonies.co.uk
07786 268446
@sbeeceremonies
facebook/silverbeeceremonies