You've set your heart on a celebrant led wedding, the personal and relaxed style is just what you want and it's a perfect fit for your venue. But how are going to convince your family that it's every bit a proper wedding ceremony?
The majority of over 50s probably aren't aware that celebrant led weddings are an option, and very few will have been to one. After all, they have only really gained in popularity across England during the past 10 years, although they have been available for decades for those seeking an alternative path to a church or registry office wedding if you knew where to go.
I've enjoyed many conversations with great aunts and uncles over a glass of fizz after the ceremony who've told me: "We'd never been to a celebrant led wedding before but it was the most wonderful wedding ceremony ever!"
What to Tell Fact Lovers About Your Celebrant Led Wedding
So, you could just tell your sceptical relatives that they'll have to come along on the day and see what it's all about but it would be great to get them on side and excited for your big day. For those practical relatives you want to fill them with facts:
Over 1000 couples in England choose a celebrant led wedding each year
Those who choose a Humanist celebrant to led their service are the most likely to remain married!
There are no rules about what has to be included in your wedding ceremony so it's much more flexible than a religious or registry office service
Celebrant weddings can still include vows, exchanging rings, poems and readings, and a certificate singing with witnesses,. But they are more personal than the other options available and you can add symbolic gestures or cultural elements to your ceremony just as you choose
No, it's not legally binding in England at the moment but it's important for the two of you to celebrate your special day in the way that suits you in the place of your choice. The commitments you make to each other on the day are real, these are your promises to each other for life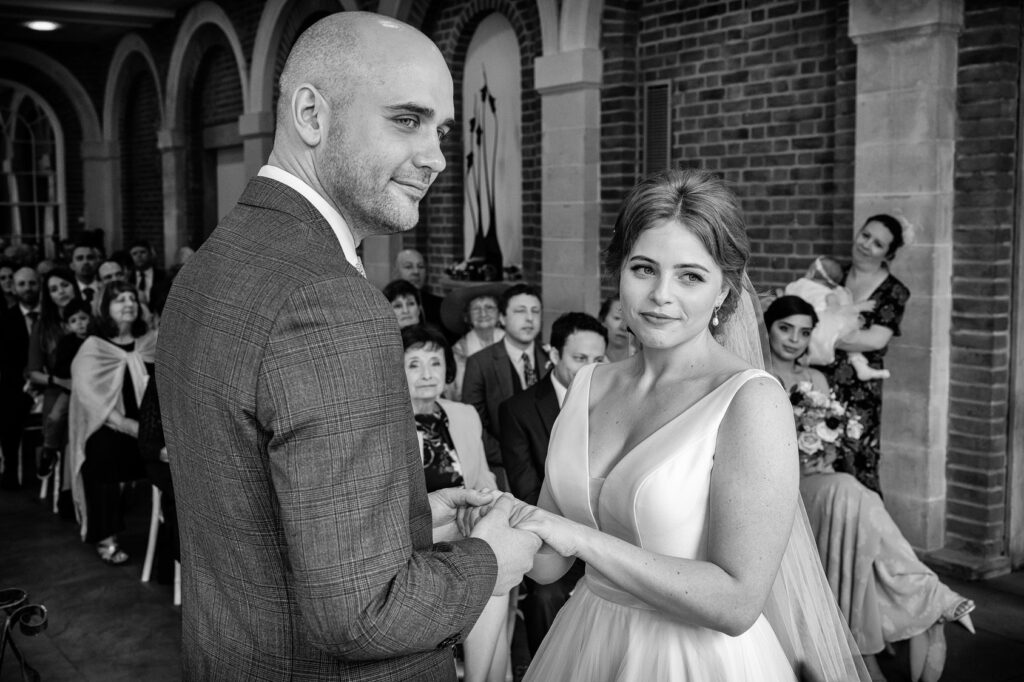 What to Tell Romantics About Your Celebrant Led Wedding
And for those relatives who have a romantic side, they'll be swooning if you weave these suggestions into your conversation:
Celebrant led weddings are so romantic as they are designed and written around the two of you, your love for each other and what's important to you
You get to write your own heartfelt vows that you can surprise each other with on the day, with a bit of writing help from your celebrant if needed!
Ceremonies usually include your love story so your guests will get to relive the anecdotes from your early days together and that romantic proposal all over again
You could include romantic symbolic gestures such as a ring warming where they will get to hold your wedding rings and warm them with their love and wishes for you both during the ceremony. This can be coupled with with the more traditional exchange of rings and certificate signing which will make for gorgeous photos
Your wedding ceremony will be in the exact spot you choose, maybe a woodland copse, a beach, or your parent's back garden. A setting that is special to you brings extra meaning and emotion to the day
The Final Word
But probably the most important thing to tell anyone who has reservations about your choice is that your celebrant led wedding is something you've got your heart set on. You want a personal wedding ceremony that's been written just for the two of you. And it includes everything you want – whether that's singing, poetry or a hand fasting – while you commit to your future lives together in front of the people that mean the most to you. Surely that will win them over!
Good luck with your conversations and let me know how you get on in the comments below.
If you'd like to find out more about my wedding ceremony services visit my weddings page for some inspo and check out my FAQs page too.