Symbolic gestures add an extra dimension to any wedding ceremony making it more personal and memorable for you as a couple and your guests. There are plenty to choose from that work really well with humanist wedding ceremonies, here's just a few of my current favourites…
Hand fasting ceremony
This is the best known symbolic gesture for weddings and involves tying ribbons around the hands of the couple whilst a hand blessing is read out, or the couple making promises to each other with the ribbons being tied by a friend or family member for each promise. The ribbons are then pulled by the couple to create a Celtic love knot or a chain of promises. In each case it has real visual impact and provides keepsake from your ceremony. And it is steeped in tradition, this is where the phrases 'tying the knot' and 'binding agreement' originate.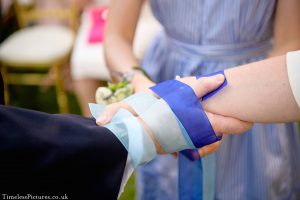 Ring warming ceremony
Ring warming is a great way of getting all of your guests involved in your wedding ceremony. Each guest is asked to take hold of the rings, which are tied with ribbon to a ring dish or wooden disc, and to privately bless the rings with their love and wishes for your future life together. This takes place during the ceremony and once the rings have been passed around all your guests they will be warmed with everyone's blessings for you to then place on each other's fingers. A really inclusive symbolic gesture for your wedding.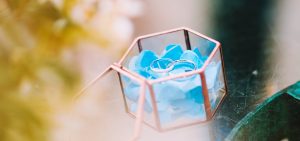 Sand blending ceremony
Particularly good for weddings by the sea, but sand blending ceremonies and work well anywhere and are a brilliant way of visually representing two families coming together. If you have children, either together or from previous relationships, this is a good way to help them feel part of your wedding too. Different coloured sands represent your families and are poured into a glass jar by each person, initially separately, and then together so the sand begins to blend in the jar. Promises can be made as the sand is poured by each family. The jar is then sealed as a keepsake of your special day.
Tree planting ceremony
If you are having your wedding ceremony in your own home or that of a relative then incorporating a tree planting ceremony as part of your celebrations leaves you with a daily visual reminder that will blossom and grow for many years. Close family and friends can be invited to add soil during the planting ceremony whilst making a blessing for your future together. You could also ask guests to write messages and tie these to the tree before the planting and then save these in a memories book afterwards.
Other ideas
There are plenty of other symbolic gestures that you can include such as lighting unity candles to bring your two families together; walking through a ceremonial arch at the end of your ceremony to represent your path together which guests then follow you through; lighting a ceremonial fire for guests to throw wooden discs into whilst making a wish; and really anything you think would work well for you. Humanist wedding ceremonies are all about making your day suit your personality as a couple.